Greek Scientist May Have Gulf Oil Spill Solution: But is Anybody Listening?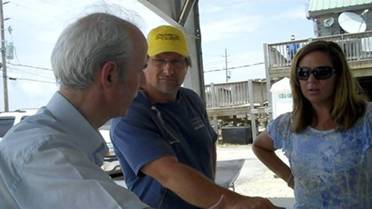 When Professor George Nicolaides showed his CleanMag technology for cleaning up oil spills at the Poseidonia conference in Greece in June, Prime Minister George Papandreou was among those who expressed interest in it. It has been significantly harder for the Technological Education Institute of Piraeus (TEI) Professor to get the ear of the U.S. President Barack Obama or BP, the British oil company operating the Gulf of Mexico drilling rig that blew on April 20, jeopardizing and destroying wildlife habitats, fishing villages, tourism centers, beaches and killing off fish along miles of coastline from Texas to Florida.
The U.S.-trained Nicolaides sent letters to Deepwater Horizon, the Governor of Louisiana, the White House and BP, telling them about his invention. "I proposed a plan of immediate action in order to protect the shorelines and the marshlands … but indeed there was no answer," he said. He even traveled to the Gulf of Mexico to demonstrate his technology in late May. The only "encouraging" response, he says, was receiving EPA approval.
Now Nicolaides fears that time is running out for the U.S. to benefit from an invention that he is convinced can make a positive difference in the cleanup. In every oil spill, no one ever collects 100% of the material, he explains, adding: "If 10-15% is collected, it is considered a success." But CleanMag, he argues, in tests, gathers 100% of spills. "It was going to be a substantial help," he said.
JUST LIKE MAG-IC
CleanMag was developed through a decade-long, 2.5 million euros European Union Life program that concluded in 2004. The invention consists of small, magnetized plastic granules that are dumped onto oil spills. The granules absorb the oil - taking in six to 10 times their weight in oil like a super sponge - before they are retrieved from the water with a powerful magnet setup. CleanMag has received attention from the likes of the BBC and CNN and received the 2nd Dubai International Maritime Award (2005.) Its use was also demonstrated, in a limited cleanup, after the Sea Diamond cruise ship sunk off of Santorini in 2007. Nicolaides counts his wife Yanna Atanassova, also a TEI Piraeus professor, retired professor Panagiotis Skoutzos and students as key collaborators. The inspiration for the invention, says Nicolaides, was the 1989 Exxon Valdez oil spill. He formed a CleanMag company in 2007. As he wrote to Obama, a lighter non-magnetic form of CleanMag, retrieved by fishing vessels, would be most effective in the Gulf. He wrote: "I feel that we would be able to protect major areas especially in shallow waters and the result would be rather outstanding. This action though it has to be taken immediately because if the oil goes into wetlands or on the shore line an percolates through the soil then the things would be very difficult for any clean up operation."
CLOSE-UP DISASTER
After the Deepwater Horizon catastrophe began, Nicolaides was invited to Florida by a company professing interest in his technology. Unfortunately, upon arrival, he realized that the funding was not in place for mass production of CleanMag. He said, of his visit: "I saw the picture up close …. I realized how tragic it was." Tragic too, in his view, was the inadequate response. Of the panic and a lack of preparedness, he said: "It was a joke." He added that "specialists, good and bad" and profiteers abounded. Nicolaides said: "I realized the whole accident has become a serious political issue (having the Republications hitting Obama every day,) but the U.S. government seems helpless since they do not decide what to do and how to do it."
Nicolaides said he is concerned with BP's main solutions - using dispersants and burning. It's the way "the molecular structure of the oil changes due to (dispersants)" that concerns him, as oil is broken down into small droplets resembling, in his words, "very bad Maxwell House Coffee." A "slow poisoning" of marine life results. And in burning crude oil, said Nicolaides, surface light oils burn, while the heavier part of the substance (which requires 500 degrees to incinerate) is left behind, but made denser. Nicolaides was astounded to hear some of the homespun solutions to the cleanup, such as calls for feathers and hair to be used to gather oil on boats.
NO RESPONSE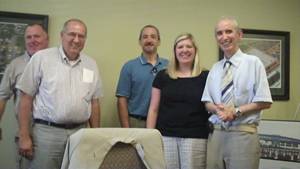 The scientist, who said he remains focused "100% on the Gulf of Mexico" this summer, says he feels "up against a wall," noting that CleanMag "has to be used as soon as possible," as it only works when oil is in liquid form, before forming tar balls. But there is no word yet. Nicolaides said he received a "nice letter" from the Governor of Louisiana Bobby Jindal, but no reply from the White House. With regards to Deepwater Horizon's form letter, he says: "As a scientist, I am really insulted." The letter told him that his was among 80,000 such proposals- and that CleanMag was deemed "already in use … not feasible … or impossible," although he said it's a proven technology. He said: "It's not about the money. I was ready to ask for permission from the university to take as long a leave of absence as required … it was not going to guarantee a perfect performance, but for sure, it would be much better than what has been done."
He said that he was encouraged at the Posidonia conference, by Papandreou talking to him for 15 minutes - and suggesting it be used in the U.S. disaster. "By chance, he happened to know about it," said Nicolaides, speculating if Papandreou had seen it on Youtube. But the scientist said he's worried about the approach of hurricane season and fears that the oil will embed itself on beaches and work its way - via the Gulf Stream - even to England or Ireland. Closer to home, Nicolaides said hopes CleanMag will never be needed for an oil spill near Greece. He added: "I hope it never happens in the Aegean Sea, because if it does, we'll be crying for decades." Oil, not water.
July 15, 2010