Fans Sabotaged at Ejekt Fest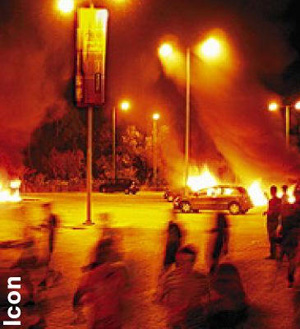 WHILE the Ejekt Festival was in full swing at the Elliniko baseball training field on June 16, no one knew violence was on the horizon. Fans shimmied to vintage UK band Madness as the sunset kissed the features of lead singer Suggs in his dapper white suit and dark shades while he crooned "It must be love, love, love..."
The over 5,500 people gyrating on the baseball diamond, likewise, did not sense anything out of the ordinary as legendary Brooklyn rappers the Beastie Boys took to the stage and - despite audio level problems - expertly manoeuvred through improvisational jazz licks, lightning-fast thrash numbers and Mixmaster Mike's tabletop displays, while hollering hits like "No Sleep Till Brooklyn".
But the crowd was in for a nasty surprise. Around 11.30pm, the Beastie Boys bade Athens a hasty farewell (cutting their scheduled 90-minute show a half an hour short). An announcement followed that the final band, Underworld, would not perform because a band member had been injured.
Shocked and disappointed, the audience started complaining and turned to see what the Beastie Boys had seen - thick clouds of smoke rising from the back of the stadium, behind the VIP bleachers, with more flames visible further to the right.
Fans didn't panic but quickly realised they were on their own. Fenced-in, with no police or fire-engines audible (for at least 45 minutes) and no organisers or security personnel visible, those on the field became sitting ducks for bottles (mostly plastic) hurled at the sound equipment. Evacuating - for anyone not in a wheelchair - required shuffling to an exit through over 500m of fenced-in, narrow walkway - with burning vehicles on either side.
In a press release, Detox, the company that organised the concert, said 300 masked individuals were to blame. The trouble, they state, started at 9pm when a group of thugs violently broke through security to avoid the 70 euro door fee. Even after the gates were left open, the release states, a wave of additional invaders appeared and attacked the private security company's employees with sticks and rocks, and looted the facilities.
Underworld's Rick Smith was injured during the violence when a brick thrown through the window of his dressing room hit him on the side of his head. Smith was treated at the Tzaneio Hospital and later - according to the band's press release - in the UK. Detox organisers assert that Smith's injury was not serious, though they say he had been covered in blood and temporarily lost his hearing.
Underworld's press release indicates that security agents were seriously injured. No audience members were injured, according to Detox. The company downplays Hellenic Olympic Properties' venue damage as "not a problem", due to insurance arrangements. A total of six vehicles were destroyed. No ticket reimbursements were announced. For many, it was a foul start to the summer concert season.
ATHENS NEWS 22/06/2007 page: A32
Article code: C13240A322